Pet costumes are a frivolous distraction from the crumbling world around us. And I love them.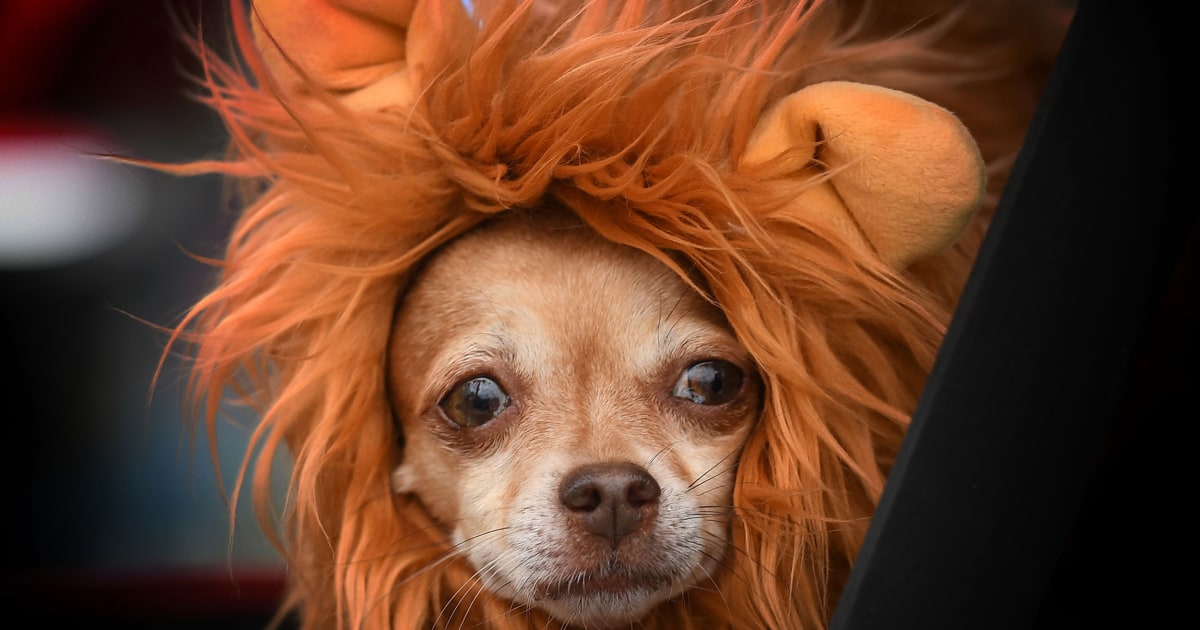 Social media offers a strange juxtaposition of events right now, from the macabre execution of a journalist, to the lack of leadership in American politics and the growing ubiquity of pet costumes. It turns out that more than 30 million people (roughly the total population of Texas) will spend nearly half a billion dollars on animal costumes, from mini Superman outfits to dog hoods that look like manes from Lion.
Try to think about what half a billion dollars could buy in lieu of pet costumes: How much drinking water could you get in Flint, Michigan? (The answer is 62, at the last known rate of $ 22,000 per day.) How many homeless veterans could you house? (Considering the average rental price in America, you could house each of our roughly 40,000 homeless veterans for 8 months each.) Seems like half a billion dollars could be put to more practical use than to buy millions of tiny Chewbacca sweater vests.
And, yet I have to reluctantly admit that I can see the value in indulging in something as frivolous and entertaining as dressing my dog ​​like a walking taco. Who wouldn't rather watch a waddling dog in a pumpkin outfit than read stories about how we're all going to burn and die from climate change?
Go to any big box pet supply store, and it's clear I'm not alone. At my place, shoppers are greeted at the entrance with a display of hot pink miniature tutus, tiny blue capes, and orange pumpkin costumes. A small, pet-sized t-shirt reads "Only here for the Boo-ze."
Of course, almost all of the costumes are made of synthetic materials, and even without looking at the labels, I know they were made in another country, probably at ridiculous wages.
I wander aimlessly down another aisle, past animal animal costumes, and a member of staff, noticing my puzzled face, asks if I need help. I ask if there are any cat costumes. John says they only wear dog costumes, but adds that many smaller dog costumes are also suitable for cats – and, in a different place, they wear guinea pig costumes.
John then proudly shows me a photo of his toy poodle in a monkey costume; her coworker, Kelly, shows me one of the big pet rats in a cowboy hat and assures me that she has the cutest photo of her snake in a little top hat, but doesn't can't find her on her phone.
John and Kelly, when asked to explain why people dress animals in costumes, both shrug. "It makes people happy," John says.
I indulge in happiness and buy a sheriff costume with a cowboy hat, a monkey costume with a fur hood and a black witch hat – all at a reasonable price on sale – for my three pets. company. (They'll likely get more expensive next year, with Trump's new tariffs.)
I come home and quickly find out why none of the costumes are charged like the cats: I can't even get one of the little hats on either of my two cats. My youngest cat, Peanut, crabs backwards after I slipped the little witch's hat on her, and ends up lying in a puddle of fur.
My older cat, Bisu, registers her disdain for the cowboy hat by chewing on the elastic and then the brim of the hat, finally hitting me and the hat with a paw full of claws before running and hiding under our bed.
Morgan, my dog, looks at me doubtfully as I approach with the monkey hood, which she pulls aside as soon as I put it on her. Then she shakes her head back and forth as I try to put the witch hat on her head. The cowboy hat was a total no-go.
I manage to snap a few photos while holding the hats in place as Morgan gives me annoyed looks, to document his kindness and exasperation on social media, like a sizable part of other pet owners. (We don't want to get FOMO, of course.)
I'm probably anthropomorphizing his appearance – but, again, I try to dress my pets in tiny costumes.
I get back to work, open Twitter, and try not to get too disheartened when my animal photos elicit more interaction than the stories I've worked so hard to relate and write. But I can't blame people for wanting to take a break from the bad news.
It makes sense that people would choose to watch a video of my dog ​​eating broccoli rather than clicking another story about the gender pay gap. Humans, like any other animal, tend to avoid pain. Who am I to judge this trend? Don't we deserve a little levity or silliness or even joy in the midst of all our collective pain?
Also, who doesn't love a cat with a cowboy hat?