Meomari Luxury Pet Accessories – The Luxury Editor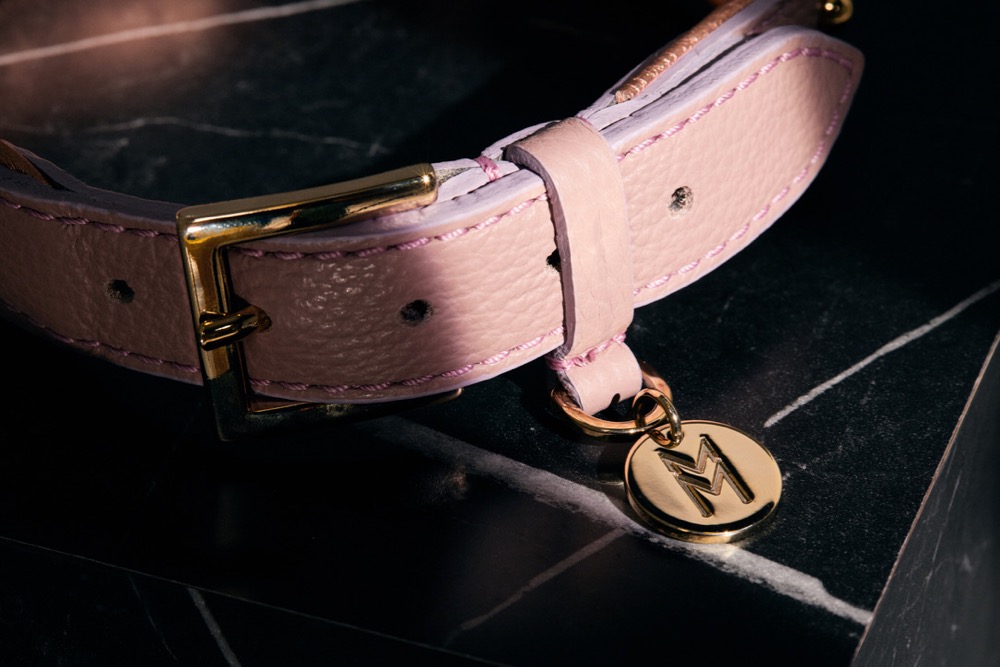 A love of dogs combined with a commitment to authentic Italian-made products inspired the creation of pet boutique, Meomari. Innovating in the world of dog accessories, the high-end brand operates around the fundamental principles of luxury, artistry and elegance. Also emphasizing Italian heritage and expert craftsmanship, its elegant garments are designed to last a lifetime, developing a graceful patina as they age. And for those looking to give their dog a tasty treat, there is also a selection of canine pastries.
Luxury
Flawless design, high-quality materials and soft-touch feel lend a real luxury feel to the brand's items. But they are made to be worn, not just admired. Heavy-duty cowhide leather is used to ensure high-quality durability that stands up to inevitable daily wear and tear, while providing an ultra-comfortable buttery feel for your pup. The Da Piacenza range features flawless full-grain leather, with the Fracci collar incorporating a lightweight strap in a soft brass color that complements its hardware. The Taglioni also features this complementary hue, in the leather interior of the collar, creating a subtle two-tone effect.
Since it is so important that the collar and leash hardware is strong and sturdy, 100% brass has been used to create structural integrity as well as a warm glow at sunset. This is then covered with an extra resistant coating to prolong its life and display its shine. Since this metal is resistant to wet conditions and rust, it's a great choice if your dog likes to bathe or wander through dew-filled fields. Brass also has antibacterial properties, making it a cleaner and safer choice for responsible pet owners.
Artistry
Exceptional design is at the heart of the range. The selection includes practical pet supplies like collars, leads and training leads, bold raincoats and a comfortable, fashionable and waterproof down jacket, The Cecchetti. But it also incorporates great decorative pieces. Necklaces can be purchased containing gemstones such as round rhinestones, pearls, and deep black rhinestones. Although these jewels have a rare and delicate appearance, pet owners can rest assured that they are built with the most active pooches in mind, reinforced with wire for their safety.
The range doesn't end with clothing either – edibles have been incorporated as well. They are dog-friendly gifts, ideal for celebrating the arrival of a new four-legged family member, or as a birthday present for that very special dog who deserves to be pampered. Buy Bellini & Cannoli (a Venetian cocktail paired with a traditional Sicilian dessert), or Prosecco & Stelle Chioc (an even apple-based version of the human fizz, served with delicious biscuits). The team worked alongside a veterinary nutritionist to produce these beautiful featured premium treats which are made in the Tuscan town of Zocca di Modena.
Elegance
The brand's accessories are designed to gain character as they age, just like your pet! Puppies find carefully sized collars extremely comfortable and effortlessly chic. A sizing chart ensures you get exactly the right fit (there are six size options), removing any pulling forces or strain on the material. Matching leashes are available in eye-catching and stylish shades of mauve and purple. The designers also considered seasonality and timelessness in the aesthetics of the items. Although entirely modern, they will not date or be moved with the passing of the seasons.
Reflecting the theme of refined elegance, the lines are all named after famous legends of Italian dance. Carolina "Carla" Fracci was a ballet dancer, actress, and ballet director – one of the country's finest 20th century artists. Enrico Cecchetti invented a whole style of ballet, while Domenico da Piacenza was a Renaissance dance master and Marie Taglioni typified 19th century romantic dance.
Heritage
The company, founded in early 2020, was only recently launched in 2022. The two-year preparations resulted in finding the best suppliers, creating the most comprehensive designs and implementing the most comprehensive testing procedures. thorough. a fine collection of pet accessories to its customers.
As an ode to the Italian heritage of its supplier, offering products that are entirely authentic and made in Italy. Sharing suppliers with some of the most famous luxury brands in the country, Meomari ensures that its accessories are held to the same high quality standards as these renowned fashion houses. This is also linked to a strong philanthropic ethos, with the company contributing both time and resources to charities working to improve canine welfare.
Craft
Drawing inspiration from the long tradition of fine Italian craftsmanship, Meomari has brought this internationally acclaimed level of humane luxury to the pet market. Without compromising on quality and incorporating ethical manufacturing processes as well as sustainable practices, it challenges many customers' preconceptions about canine products.
Products can be purchased and shipped internationally through Meomari's online store. The items are elegantly presented in their own pouch and gift box. These exquisite accessories will update your dog's appearance and provide ultimate comfort. And, because they ensure longevity, they are eco-friendly options that, with the proper care, won't need to be replaced during your pet's lifetime.
meomari.com