Home Fashion Label Buster + Punch Launches Luxury Pet Accessories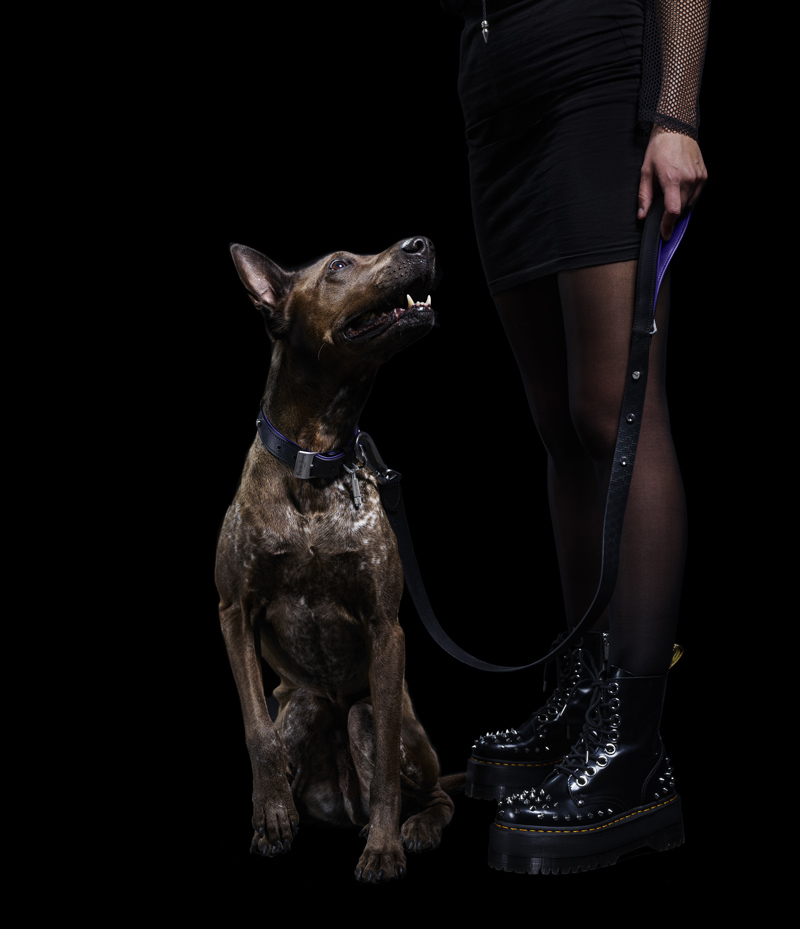 LOS ANGELES (PRWEB)
August 13, 2020
London-born in-house fashion brand Buster + Punch announces its expansion into the pet accessories category with the launch of a quirky, fashion-forward set of dog collars and leashes. Blending solid metal detailing and handcrafted fine two-tone black and purple leather, the new collection exemplifies the rebellious style that has become synonymous with the brand. Avid Buster + Punch fans have witnessed the brand's signature style, which incorporates quality handcrafted materials and solid metal details, extending beyond the home through style categories from life such as jewelry, table accents and now stylish pet toiletries.
Buster + Punch is known for injecting attitude into ordinary home details and accessories such as door levers, cabinet hardware, lighting and more, and its new line of luxury accessories for pets is an appropriate next step. The necklace is studded with solid metal coin screws and a pendant with a diamond cut cross knurled pattern that is recognizable in many home products from Buster + Punch. The pendant can be screwed down to store all of a dog's valuable information, a unique alternative to a standard collar tag. The exterior of the collar is finished in black leather, lightly embossed with a "Buster + Punch" pattern while the interior is naturally dyed purple and made from super soft leather to ensure comfort and durability. The matching leash is finished with the same quality materials and comes complete with a strong metal carabiner. The collection is offered in solid brass or solid stainless steel.
"We've designed a range of bold dog collars and leashes that will make your dog stand out from the crowd, or at least in the park," said Massimo Buster Minale, Founder and Creative Director of Buster + Punch. "In the brand's spirit of recreating mundane products we see and touch every day, we felt it was only natural to offer pets the same unique style and attention to detail as Buster. + Punch provides in all of our products."
Available in sizes x-small to x-large, the dog collar offers high fashion style for every breed of dog. Each collar and leash can be sold separately or as a set and comes packaged in Buster + Punch branded packaging.
Please contact for more information, interviews, price lists and high resolution images. See more of the new collection at busterandpunch.us
About Buster + Punch

Since 2013, Buster + Punch, a London-born home fashion brand, has been working with unusual and strong materials to create extraordinary items for everyday use. With headquarters in the UK and European operations located in London, Stamford and Stockholm, Buster + Punch also has North American sales and marketing operations located in California and its distribution center is located in Arizona. Buster + Punch's exceptional masterpieces were created in an east London garage where founder Massimo Buster Minale discovered a passion for making the things he loved. From lighting and hardware to custom motorcycles, lifestyle accessories and whiskey bars, Buster + Punch makes unexpected and stylish interior products for those who want to live with conviction. The high-end brand draws inspiration from London's fashion, music and subculture scenes where it has collaborated with street artists, bike builders, musicians and fashion designers to inject inspiration attitude in their handicrafts. Buster + Punch has collaborated with renowned brands such as Rolls Royce, Harrods and legendary shoe designer Justin Deakin.
Share the article on social networks or by e-mail: